Green Street Arts Center of Wesleyan University recently sat down with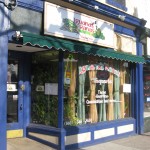 local business owner and Green Street partner, Polo Martinez to find out more about business at Iguanas Ranas Taqueria. As a partner in our Membership Program, the restaurant offers a free soda with every $10 purchase to our Members. Read on to learn about their fabulous dishes and community connections.
Originally from Oaxaca, Mexico, Polo came to Connecticut 20 years ago. His wife, a native of Mexico City, and children followed soon after.  After years of experience in the restaurant industry, the Martinez family decided to try their hand at business.  Iguanas Ranas Taqueria opened in 2008 and has been making a name for itself ever since.
Nestled in Middletown's North End, Iguanas Ranas offers deliciously authentic Mexican cuisine at economy-friendly prices.  Of all their delicacies, Polo tells Green Street, the burritos and the tacos are the most popular.  The Oaxaqueña a 15-inch creation, originally called "tlayuda" in Mexico, is something you have to see to believe.   Everything is homemade and fresh, which makes all the difference when you are competing with the multitude of restaurants in Middletown.  While they do have a set menu, Polo says that Iguanas Ranas is able to make other dishes to order. So if you're craving enchiladas or mole, just give them some notice!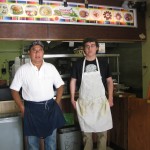 Polo thinks that the large Latino population combined with Iguanas Ranas' commitment to authentic, homemade foods are key in their success.  It is clear that this taqueria is in demand; Polo routinely receives requests for other Iguanas Ranas locations around the state.  While expansion is not currently on the menu, Polo hasn't ruled it out.  When asked how he thinks another Iguanas Ranas would fare, the owner said, "I'm not scared. You make good food, people look for you."
Are you taking full advantage of our partnership with Iguanas Ranas? If you are a Green Street member, show your membership card and get a free drink with every $10 purchase.  If you're not a member, call us at (860) 685-7871 or email gsac@wesleyan.edu to join! Visit http://www.greenstreetartscenter.org/members/ for a full list of membership benefits.
Submitted by Lisa Bruno, Development Assistant