What makes a community?  It is not the buildings and roads of a place, but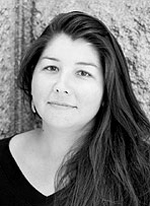 the bonds between people, that create a community.  This is apparent in Reaghan Tarbell's film, To Brooklyn and Back: A Mohawk Journey.  The film tells the story of the Mohawk people of Kahnawake, Quebec, who, for over 50 years, have occupied a 10 square block neighborhood in the North Gowanus section of Brooklyn called Little Caughnawaga.
A chance for employment is what led the skilled ironworkers of Kahnawake to Brooklyn, and their wives and children followed.  The women, too, often sought work opportunities in the "golden" city of New York.  The women were instrumental in keeping the community strong and Mohawk culture alive in the Brooklyn neighborhood.  But the people of Little Caughnawaga never forgot where they came from, and often travelled the long journey between Brooklyn and Quebec to visit their extended families.  The film also covers the tragic Quebec Bridge collapse of 1907, a catastrophe which killed 75 people, including 33 men from the Kahnawake community.
Reaghan now works in New York City and lives in Brooklyn, just a few blocks away from the Mohawk community that she heard stories about while growing up in Kahnawake.  The women who built this community were her grandmothers, aunts and other relatives.  Reaghan explains, "Never have I thought more about them than during my own time living in Brooklyn.  Although many years have passed I had a feeling, based on my own experiences, that deep down not much has changed for Mohawk women.  I wanted to learn about their experiences.  I wanted to hear about the issues they faced and I wanted to hear it from the women in whose path I was now walking."
To screen the film and learn more about Reaghan Tarbell, come to Green Street on Friday, May 14 at 7pm. Suggested donation is $5.
Submitted by Stephanie Elliott, Friend of Green Street and Publicist at Wesleyan University Press