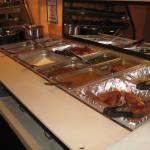 Recently the Green Street staff went out to lunch to enjoy good food, good company, and beautiful weather.  They decided to take advantage of the discounts they receive at local businesses with their Green Street membership card.  At Tandoor Indian Restaurant, Jessica, Lisa, Sarah-Jane, Rachel, and Claudia enjoyed delicious food from the lunch buffet, which offered dishes such as pattar paneer, keema curry, chicken tikka masala, and freshly baked naan; there was certainly something for everyone.
Claudia had the shrimp korma and said, "It was such a nice change of pace in my work day to be able to experience the tantalizing flavors of the Indian cuisine at Tandoor".  For dessert they all went to Cold Stone Creamery where Rachel thoroughly enjoyed her OREO Overload.  "There's something about Cold Stone that I really like.  They're so friendly and it's a very welcoming atmosphere," she said.
Cold Stone was one of the original Green Street Membership partners.  "It's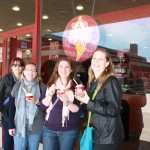 amazing to see that, in just a few short months, we've expanded our Membership program to include over 52 partners," marveled Jessica, "and it's wonderful to continue to support one of our original partners as well."  In the same day, Jessica ran to It's Only Natural Market, one of Green Street's newest partners, and used her membership for a 10% discount. "In a matter of minutes, I used my Green Street membership card at three different places around Middletown, and there are so many other opportunities to do so.  The Green Street Arts Center Membership Program is a great way for individuals to support local businesses, community partners, and Green Street while getting fantastic deals at the same time."
Green Street's membership program continues to evolve and expand.  Our most recent partners are the Cardinals Nest and Tschudin Chocolates.  Visit our membership website to see what great deals you can get at all of our partner businesses and regional organizations!
To become a member call (860) 685-7871 or email gsac@wesleyan.edu and say "Yes!  I want to become a member!"
Submitted by Lisa Bruno, Development Assistant