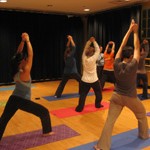 As Green Street's Managing Director, I spend most of my days, and even some nights, working behind the scenes. I'm usually writing grants, soliciting support for programming, balancing budgets, managing operations and staff, and spreading the word about all of our offerings.  I love what I do, and am even more passionate about this incredible organization for which I work, but I would be lying if I said it wasn't sometimes stressful.  One of the best parts about working at this extraordinarily special arts center is that I can relieve my stress without ever leaving the premises.
About two years ago, instead of just working to market Green Street's course catalog, I finally found the time to take advantage of some of the incredible classes that were listed in it.  The first class I decided to try was Gia Khalsa's Gentle Yoga.  I had never taken a yoga class before, my knowledge limited by brief images seen on TV or other advertisements.  The description of Gia's class really grabbed my attention.  "Gia's gentle yoga" seemed immediately inviting, instead of intimidating.  Her description went on to say, "perfect for those who want to get in shape or gain a little experience." I wanted to get in shape, get familiar with yoga, and find a new way to unwind.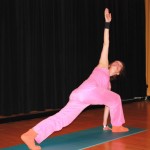 As soon as I laid down my yoga mat at the first class, I was hooked.  Gia's presence is warm, inviting, and motivating.  She mixes traditional yoga postures with light stretches and relaxation throughout the class hour, focusing on all areas of the body, including breathing and stress relief.  In one hour, Gia's routine energizes, relaxes, reinvigorates, and motivates.  Gia is encouraging and caters to all of her students' needs, making everyone in the class- no matter their ability- feel welcome, engaged, and inspired.  Yoga has not only helped me relieve stress, but has also played a large role in my quest for a healthier lifestyle.  In addition, yoga at Green Street has been a bonding experience for me.  I've been fortunate enough to take the class with my colleagues and enjoy meeting new friends. More recently, I am loving the quality time I get from taking yoga with my mom.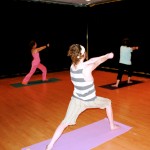 Even after working at Green Street for nearly four years, it is still evident that walking through the front door has the power to transform.  I see it in my professional self each day, in our After School students' eyes, and in the inspirational and passionate stories I hear from the families and adult students who make up the true fabric of the organization.  Now, as a student myself, I have been transformed in a whole new way, and I encourage you to join me.
Gia is offering a Summer Yoga class beginning in July.  To learn more about it and all of Green Street's other summer offerings, visit us online at www.greenstreetartscenter.org.  There are so many fantastic opportunities awaiting you…I hope to see you in Yoga, or Hip-Hop too!  It's another fabulous class that I've been involved in and it'll be back this summer as well.  Can't decide what to take?  Give us a call at (860) 685-7871 or email gsac@wesleyan.edu and we would be happy to assist you.  Make sure to sign up for one of our great summer classes.  I look forward to seeing you then.
Submitted by Jessica Carso, Managing Director and Green Street Student