"Working at Green Street, in the After School program, has given me the chance to show our students how current technology can be a creative tool that they can use to express themselves.  I try to help them see how relatively easy it is for them to create sophisticated content, and put it out into the community and further into the world. In some sense, I want to convert them from passive consumers of online content into creative producers." -Shawn Hill
For the past few years I've been teaching Digital Video Animation to Green Street's After School students and helping them create animated shorts (cartoons).  Students draw images on the computer and then move those images to a new location on the screen.  The computer then infills the motion necessary to move from the initial location to the new one, and creates the sense of motion over time.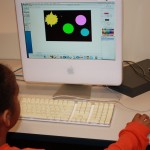 Animating in this way gives the students immediate feedback on their drawings and brings them to life through motion.  Each student is typically able to create a short animated section of about 3-6 seconds in length during an hour-long class.  And, while spending an hour to create 5 seconds of a cartoon may sound like a lot of time, when you consider that 5 seconds represents 120 frames, you can imagine how much time it would have taken even the most talented classic Disney animators to draw 120 subtly different drawings in order to add up to 5 seconds of final film!
Each semester our class settles on a theme – over the years we've done global warming, exercising, Middletown, and science.  In each class I introduce and demonstrate a new skill or technique in Anime Studio.  The students then go off to their own computer to draw, and then animate some part of the semester's theme, using the new skill/technique.
Each week the students create their clips independently, and the beginning of the following class is often a great chance for them to see the creativity and skill of their peers By mid-semester we begin to assemble the best clips into a class video.  We work on titles and credits, and typically end-up with a final class video of about 6 minutes in length.  Students in Green Street's Sound Recording class then create soundtracks that we add to the final cartoon.
Submitted by Shawn Hill, Wesleyan Staff & Green Street teaching artist

Here is a video students made called "Go Out and Play".  Click here to see more videos and get a sense of the great work our After School students have created.
A little bit about After School:
Green Street's After School Arts and Science Program offers outstanding classes with published writers, professional dancers and visual artists that represent the diversity of our community and the breadth of our experience.  Classes are offered for grades 1-9, Monday through Thursday and grades K-5 on Fridays.  Students can take classes in digital animation, African drumming, comic book creation, breakdance, sound recording and more.  Our After School Program begins on September 13, 2010.
Registration closes at noon on September 8th, or once the program has reached maximum enrollment, so don't wait!  In order to enroll in the program, you and your child must register with us in person to sign our Parent Handbook, complete financial aid paperwork, and/or make payments. Please call ahead – (860) 685-7871 – to schedule an appointment; drop-ins will only be seen on a first-come, first-served basis.  Registration appointments are currently being scheduled at the following times:
Monday, August 30th and Tuesday August 31st – 9:00 AM to 5:00 PM
Wednesday, September 1st and Friday, September 3rd – 3:00 PM to 5:00 PM
Thursday, September 2nd and Tuesday, September 7th – 3:00 PM to 7:00 PM