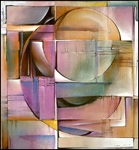 Having been part of the Green Street family for 5 years, and focusing primarily on the financial end, I have learned quite a bit about the offerings from a registrar's point of view.  After working closely with the Teaching Artists, I was curious to see what attending their classes would be like.  This curiosity led me to take Edeltraud Huller's Beginning Drawing class in the Summer 2009.
As the first class drew near, I was nervous with anticipation, as my previous drawings reflected the skills of a pre-schooler.  On the day of the class, I showed up armed with a few pencils, some paper,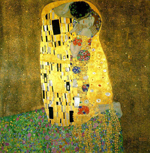 and sheer determination; my goal was to learn how to sketch fashion design.  Beginning Drawing consisted of two 16 year-olds and 3 adults who could easily have been their parents (or grandparents)- what a mix!  In these 5 weeks, we managed to sketch everything from our fellow students to the flowers in Green Street's garden.  This experience, and the serenity of drawing outside, reminded me of what great inspiration lies in nature.  Additionally, the talents and different styles of each student were really fascinating and acted as encouragement for us to think about our subjects from a different point-of-view.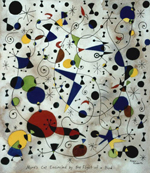 In one class, Edeltraud encouraged us to bring in works by our favorite artists for inspiration and to learn about their work through imitation.  I chose works by Austrian painter, Gustav Klimt and Spanish surrealist Joan Miró.  I was able to examine their different styles of painting as well as their uses of composition and color.  Klimt's obsession with the female anatomy, and Miró's use of shapes made it easy for me to draw inspiration and sketch multiple drawings.
After completing the course, I was left with four drawings that showed my progress.  Thanks to this class, I realized that I was actually a decent artist.  I have kept the nature sketches not only because I enjoy them, but also as a reminder that I should continue challenging myself.  Looking back on the experience, I realized that it was much more than a drawing class, but rather a time when I could forget about the stresses of the day and completely lose myself in the art.
Submitted by Claudia Foerstel, Financial Coordinator & Registrar and Green Street student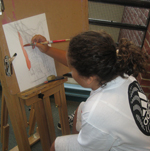 Are you interested in Claudia's experience or do you want to take Edeltraud's drawing class yourself?  Session II of Green Street's Fall classes are beginning this week and registration is open now!  Click here to view all of Green Street's offerings for lifelong learning.  Call 860-685-7871 or email gsac@wesleyan.edu to register or click here to register online.