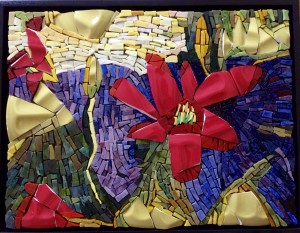 During the month of August, the Green Street Teaching and Learning Center of Wesleyan University will be displaying the work of Connecticut teaching artist, Beth Klingher.
After spending ten years teaching math in New Haven public schools, Klingher continues to work as a teaching artist in schools throughout Connecticut where she is known for exploring the connections between math and art.  Her exhibit at Green Street, Art in Pieces, highlights her mosaic art.  Each of her imaginative mosaic constructions is a symphony of visual and tactile materials–  glass, ceramic, stone, and pottery.  This lively exhibit of abstract geometric designs, stunning undulating landscapes and playful patterns of color is a joyful concert for the eye that is not to be missed.
Klingher's  Art in Pieces  will be on view from August 4- 24th with an opening reception on August 4th from 5-7p.m.  The  gallery's summer hours are Monday through Thursday from 9a.m.- 5p.m. and Fridays from 9a.m.- noon.