Our Discovery AfterSchool Instructors share stories from their classes in this guest blog series Discovery AfterSchool Stories. For more information on our AfterSchool Program, please visit – http://wesleyan.edu/greenstreet/youth/afterschool.html.
By: Peter Van Siclen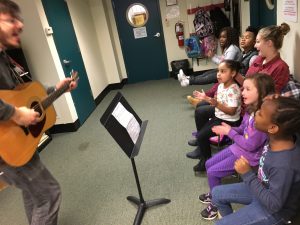 In musical storytelling we have been playing live music behind books, recording sound tracks on the computer, and writing original story songs. In the beginning of the year we wrote a blues telling a silly story of an average school day. Since then we have been practicing the original song by stamping, clapping, and singing. Not only are we practicing keeping a steady beat, singing together as a group, and learning the blues form, but we're having fun doing it!
We are continuing to practice this blues, finish recording the soundtrack to "Frog Goes to Dinner" and complete our original whale tale, complete with GarageBand compositions and illustrations.