Our Discovery AfterSchool Instructors share stories from their classes in this guest blog series Discovery AfterSchool Stories. For more information on our AfterSchool Program, please visit – http://wesleyan.edu/greenstreet/youth/afterschool.html.
Musical Storytelling
By: Anna Flurry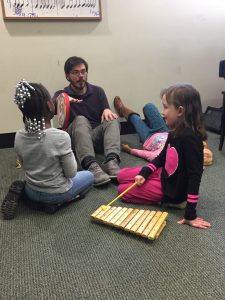 A drum machine sets up a rhythm as students take turns playing along on their instruments and making their own beatboxing sounds. "We were working on our blues song," says Mr. Peter Van Siclen, teacher for the Musical Storytelling class. "They've written a blues song where they tell the story of a school day and the funny moments in it." As a reward for finishing the blues song, the students got to make up their own beat with the drum machine. In terms of the class overall, Mr. Peter says, "They've been really creative and done way more than I expected. They did their own original song about a shark-eating whale that lost its saxophone and then used a mermaid to help find it! And then they did their own drawings and made a movie putting that all together."
In addition to Musical Storytelling, Mr. Peter is teaching BoomWhackers and African Drumming at Green Street this semester. He has been working here for several years and says of the program, "I think the variety of options for the kids is incredible… I love seeing the overlap between dance and music and art and how the kids get to blend it all together and go from one to the other each day."
Next semester, Mr. Peter is looking forward to teaching more classes that let the students be creative using music. into adding a class on film scoring, as well as a found instruments class. Keep a lookout for next semester's classes!