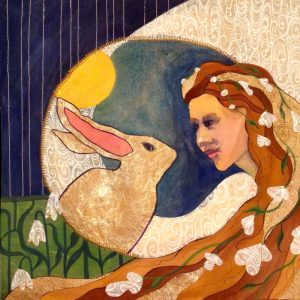 Cassia Cogger harnesses the inherent simplicity and harmony of the circle as a means for personal storytelling and for connecting with the inner self.  She is the author of the newly published, Creating Personal Mandalas: Story Circle Techniques in Watercolor and Mixed Media, where she shares exercises in self-exploration via the endless possibilities of creating within the circle.  Cogger heralds the circle as the most basic of shapes– one that can open your heart, lead you back to your center, and ultimately, give rise to your authentic voice.
During the opening reception on Thursday, June 1, 2017, Cogger will lead a free personal mandala workshop from 5:30-6:30p.m.  The exhibit will run from June 1-July 26 with an opening reception in conjunction with Middletown ArtWalk evening on June 1 from 5-7p.m.
The gallery's regular summer viewing hours are Monday through Thursdays from 9a.m.-5p.m. and Fridays from 9a.m to noon.