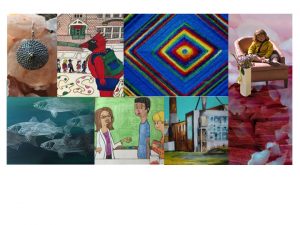 Green Street teaching artists have come together in one last visual display to celebrate the rich relationships and valuable experiences they have gained while working at Green Street.
Painters, printmakers, crafts people and makers of all kinds, they have generously given of their time, their talents, and their love to the Green Street community.  In return, their students have honored them with artwork, memories, and smiles they will never forget.  We wish them all the best as we Wrap Up at Green Street. 
The public is invited on the evening of Oct. 5th from 6-8p.m. for an opening reception and sale of our teaching artists' artwork and handcrafts.   We are located at 51 Green Street, Middletown.   
The Wrap Up exhibit will be on view between 10:30a.m.-3p.m. from Oct. 5-30th.