Green Street has some fantastic gift ideas for the holidays, and what better way to share them with you than to the tune of "'Twas the Night Before Christmas."  We hope this gives you some ideas and gets you into the holiday spirit.  After reading this, we hope you'll check out our Facebook page to view pictures from our Omnidenominational Holiday Celebration on December 3rd and the Winter Solstice on December 10th.
Enjoy!
'Twas the night before the Omnidenominational Holiday Celebration, when all through the Center
Every creature was stirring, even the presenters;
The lights were focused in the Performance Space,
In the hopes that Buru Style would soon take their place.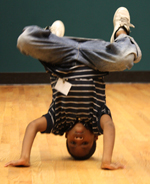 The children all practiced breakdance and ballet;
While teachers were putting artwork on display.
The staff was all ready for winter to start;
With classes like Tai Chi, Writing, and Acrylic Art.
When suddenly the phone rang with a loud bleat
A staffer picked it up, and said "Green Street!"
"Have you any classes for someone age two?
"Or something after school for kids to do?"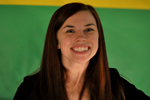 "My co-worker Lisa's interested in art,"
"And Claudia would like her lesson to restart."
"I'm happy to assist you," the staffer replied;
Her voice clearly showing organizational pride.
"We've something for Lisa, and Claudia too.
And an After School Program you cannot outdo.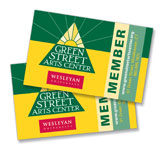 There's Private Lessons in violin and guitar.
With a Gift Certificate, you can really go far.
Use them for classes, lessons, or events.
They will take care of your holiday presents."
The caller was intrigued, she asked to hear more.
About the great gifts Green Street had in store.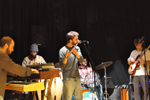 "There are Memberships!  Class Cards!  Tickets galore!
Treat yourself to a night out, don't be a bore."
The customer then smiled to find she was done
With all the holiday shopping that she'd just begun.
The staffer was pleased to have served one and all
And Buru Style took their place in the hall.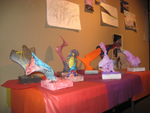 The students performed their ballet and breakdance.
And the artwork received a second, or third, glance.
With a look through the Center, the staffer declared
"This is the best time of year!" and that opinion was shared.
Happy Holidays
From Green Street
Submitted by Rachel Roccoberton Griffin
Give the Gift of the Arts this Holiday Season. Whether for yourself, a friend, a loved one, or someone else that will enjoy the experience of active creativity, Green Street makes giving art easy.  Click here to view more information.  To purchase any of these great items call (860) 685-7871 or email gsac@wesleyan.edu.