A Note of Thanks
Thank you to everyone who attended our Opening Evening on September 10th; the night was a great success and we enjoyed meeting new friends and seeing familiar faces.  We'd like to thank Michael Roth, Wesleyan University President, Sonia Mañjon, Wesleyan University Vice President for Institutional Partnerships and Chief Diversity Officer, and our incredible Green Street Advisory Board members and Wesleyan Trustees who joined in the festivities and showed their support for GSAC.  We hope you all experienced some of the great offerings, like the salsa workshop, West African Drumming and Dancing, and family art projects.  Green Street is fortunate to have fantastic advocates like you.  Buster and Paola, two of our supporters, have shared their Green Street experience with us below.

Keeping the Beat
Green Street Arts Center is an essential part of our lifelong learning process.  Buster and I are both teachers. He teaches fourth grade at Macdonough School in Middletown and I teach sixth grade at Sunset Ridge Elementary Academy for Arts and World Languages in East Hartford. He is a Middletown native and I live in Glastonbury, which makes for a convenient commute to Green Street for both of us.  Last spring, we participated in the West African Drumming: Djembe Orchestra class led by expert instructors Jocelyn Pleasant and Aaron Greenberg, who teach with humor and patience. We not only practiced drum technique, but also learned about the various rhythms and cultures of West African countries with our diverse, energetic, and good-natured classmates.
In addition to expert instruction and welcoming classmates, another key feature of the Green Street Arts Center is its partnership with the greater Middletown community.  As a culmination to our drumming course, many class members joined the instructors and younger Green Street students to perform at a community festival celebrating the arts open to all.  For a novice musician such as me, performing a public concert for an intergenerational audience was thrilling!
Buster and I always look forward to Green Street's new course offerings because they stretch our minds and rejuvenate our spirits.  In the future, we hope to explore Salsa dancing, creative writing, martial arts, and of course, more drumming.
Thank you, Green Street Arts Center for helping us stay bright and lively!
Sincerely,
Paola Maina and Buster Nelson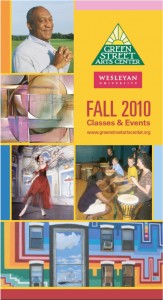 Submitted by Paola Maina and Buster Nelson, Green Street students and After School support staff
If, like Paola and Buster, you are interested in staying bright and lively through one of Green Street's offerings, view our fall course catalog here.  To become a member and receive great discounts at Green Street and partner organizations around the state, email gsac@wesleyan.edu or call (860) 685-7871.  Click here for all of the membership benefits. We look forward to hearing from you.