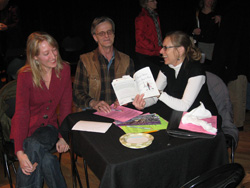 A 28-year resident of Middletown's North End, I retired from full-timework to become a writer in 2006.  My Green Street Arts Center experience began when I took a writers workshop with Dan Pope, which provided the work atmosphere and critiquing I needed.  I was new to critically viewing works and hadn't been in a classroom in decades, so this was a refresher course that provided new information.  Dan gave us relevant feedback, with lectures on how to critique and handouts of examples.  During this course an editor accepted my first short story.  What a rush!  "Synesthetics" hit print April, 2007 and is online at scars.tv.  Two others have been added there since.
Having whetted my writing appetite, the next year I workshopped with Sari Rosenblatt, who challenged us with "quickie" in-class assignments.  She'd hand out random photographs to each of us, then give us 5-10 minutes to compose a story about the picture.  I'd never dabbled in "flash fiction" before, but the exercises produced some fairly good material, which stunned me.  Two of the eleven stories I've published are flash pieces.  Later that year a one-day workshop with Jamie Cat Callan presented similar challenges; we composed five-minute works, again with positive results.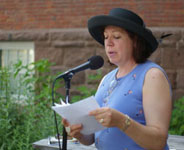 Since Writers Out Loud began in 2008, I've attended every month, mainly because reading aloud shows where faults lie and aids the rewriting process.  The primary side benefit has been meeting many delightful prose people, who've become friends, literary influences, and indispensable sources of feedback.  The Writers Out Loud ambience is relaxed; attendees bring cheese and crackers, soda, and home-made sweets to enjoy.  The first half hour gives us time to socialize and catch up on prior conversations.  I normally do a short reading, leading into Cocomo's announcements and introduction of the evening's readers.  After each person's oration, the group acknowledges strengths and weaknesses.  One reading that moved me especially was Piyar Delerme's, "Cornflower Blue," which she'll read this Thursday.  It's a touching and delicately-phrased description of a brutal situation that made my arm hairs stand at attention.
As a resident of Middletown, I believe in supporting the community and its artistic folks and I am forever grateful for the opportunities Green Street provides.  Writers Out Loud has provided prose writers the chance to give voice to their fictions, their memories, their lives; I relish creating characters and situations but have also read memoirs about key friends in my life.  Most of all, though, I've enjoyed writing about my wife, Carol, in some 18 efforts, both fictional and non-fictional.  A few Writers Out Loud attendees have told me they want to meet her based on my readings.  Apparently, I'm developing the ability to touch people. That is my goal.
Submitted by Al Bower, Middletown resident and Green Street participant
Writers Out Loud: Cream of the Crop
Thursday, July 29, 2010 | 7pm
Regular Price $8; Member Price $5
For reservations call (860) 685-7871 or email gsac@wesleyan.edu.
Join the creative cast of Writers Out Loud in an evening of hand-picked readings by Middletown's freshest up-and-coming prose authors.  The evening will culminate in the presentation of the Golden Kiss Award—make sure your vote is counted!  This event is dedicated to the memory of Janice M. Albert in celebration of her life and contributions to our creative community.