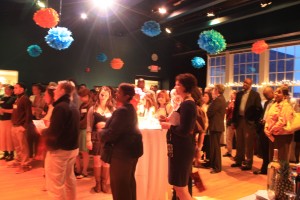 Green Street's Caribbean-themed A Feast for the Senses benefit auction held on Friday, April 8th was both sensational and successful.  Middletown community members, Wesleyan faculty, staff, and students, Green Street staff and volunteers, and many more filled the building on Friday night to bid on auction items and support students in Green Street's Summer Arts and Science Academy and, the Young Women's Leadership Institute.
Upon entering 51 Green Street, guests were met with the sweet sounds of steel pans from musical duo Mimosa. Melodies from Mento drifted from the second floor to accompany the anticipation in the tropically-colored rooms.  The event buzzed with excitement as attendees sampled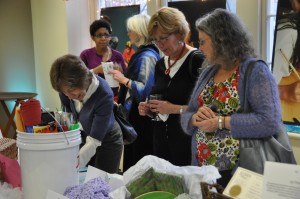 delicious hors d'houvres, perused the auction, and excitedly bid on their favorite items. While the online auction had already garnered $7,000 for Green Street's Summer Youth Programs, guests still sought out spectacular items such as a Nintendo Wii with various games, wine baskets, Mets tickets, hand-crafted jewelry and scarves that handsomely adorned the tables.
During the program Managing Director Jessica Carso welcomed guests as they gathered in the Performance Studio to listen to heartfelt testimonials by 2011 Young Women's Leadership Institute Coordinator Shamar Chin '13 and 2010 Summer Academy Science Teacher Julie Kastenbaum'09.  Many were especially touched when nine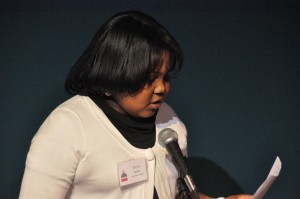 year-old student Kayla talked about "dealing with bad days" and just how Green Street has helped her "reach [her] full potential." These inspiring speeches and the encouraging words of celebrity host and Master of Ceremonies Ray Hardman from WNPR made the "raise your paddle" portion of the event so successful: we raised $4,700 and ultimately surpassed our goal and raised a total of $43,000 to support the students enrolled in our Summer Youth Programs.
None of this would have been possible without our generous presenting sponsors Mary Beth and Stephen S. Daniel '82. A special thank you to our additional supporters: Citizens Bank, IT Direct LLC., Shipman & Goodwin LLP, Done On the Run LLC, A.R. Mazzotta Employment Specialists, The Inn at Middletown, Middlesex Hospital, Centerbrook Architects and Planners, The Peach Pit Foundation, Terry Eastman, Barbara-Jan Wilson, Christine Pina, and Marlisa Simonson.
An especially heartfelt thank you to all who attended and made the event such a success: we would be nothing without our dedicated supporters!
If you weren't able to join us, don't worry, we are already planning our next big benefit event. Be sure to mark your calendars for the Tierney Sutton Jazz Band Performance, a benefit concert for our After School Arts & Science Program, on Friday, May 20, 2011.