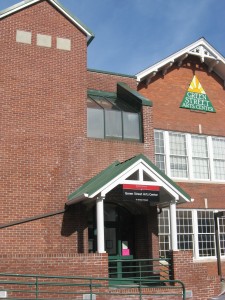 Hello and welcome to the Green Street Blog!
An emerald sitting prominently in Middletown's historic North End, Green Street Arts Center of Wesleyan University is a gathering place for people from all walks and stages of life to join together and explore the arts. Through this blog we hope to introduce you to Green Street, inside and out. We will highlight our programs, students, Membership partners, classes and events and more!
Green Street is a three-story arts and education center currently celebrating its fifth anniversary. Here you can find an eclectic mix of events, exhibitions, classes and workshops offered to local individuals and families, as well as people from more than 25 surrounding towns. Green Street's state-of-the-art facility includes a sound recording studio, black-box theater, computer and media labs, and dance and art studios. Since opening in 2005, more than 20,000 people statewide have participated in programs from the visual, performing and media arts to early childhood development. Through evening and weekend programming and special events, audiences sample a wide array of performances, lectures, and workshops from professional artists, Wesleyan faculty, and visiting and local artists.
With its mission of enriching lives through the arts, Green Street enables people from diverse backgrounds to converge in one special place.  Ours is a place that celebrates diversity, while encouraging us to learn more about our community.  The high-quality After School Arts & Science Program remains at the core of Green Street's offering, providing youth with arts education, homework assistance, mentoring, and nutritious snacks, all in the context of a safe and creative environment.
Green Street Arts Center's greatest asset and most unique quality are its origins. Evolving from a collaborative spirit of Wesleyan University, the City of Middletown, the North End Action Team and other stakeholders who recognize the potential in their community, Green Street was destined to become a beacon of change. Since its inception, Green Street has always been viewed as an extension of Wesleyan University. Green Street was fully embraced under the umbrella of the Center for Community Partnerships at Wesleyan in the Fall of 2008.
Green Street is open Monday through Friday from 9am-6pm for regular business hours and is often open later for events and classes. We hope that you will stop by soon for a tour, to get more information, or to participate in an event.
See you soon!