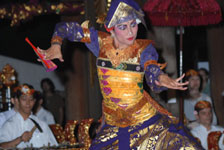 Come to Green Street for a musical journey to the tropical island of Bali! This Friday, Green Street Arts Center of Wesleyan University will host an evening of Balinese music and dance with performances by traditional Balinese ensembles. This dance is characterized by expressive hand gestures and intense emotion conveyed through the face as the dancers act out a story or series of events. In Bali, birthdays, weddings, and temples festivals are all occasions for dramatic performances and dance, as they are inextricably linked with the Balinese religion.
About the performers:
Dharma Swara is comprised of about 40 individuals who come from a variety of academic, professional, and artistic backgrounds.  They study a variety of forms, from ancient dances once performed to entertain the rajas in their palaces, to the contemporary kebyar ensemble.  For this concert we are joined by Green Street teaching artist Shoko Yamamuro, dance coordinator for Gamelan Dharma Swara, Noopur Singha, and students of Wesleyan's Balinese Dance class led by Urip Sri Maeny.
Wesleyan's Balinese Gamelan Angklung group performs under the direction of Gamelan Dharma Swara's music and education coordinator Peter Steele. Steele is a musician, scholar and composer working primarily on Balinese Gamelan music, which he teaches at Wesleyan. With an M.A. in ethnomusicology, he is also an active performer and composer, having several of his works performed by Balinese ensembles at the annual Bali Arts festival.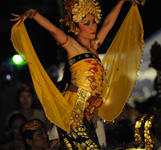 Music and Dance of Bali takes place on Friday, April 30 at 7pm. Tickets are $10 for non-members; $8 for members, students, and seniors; $5 for Wesleyan Staff, Students and Faculty w/ID.
For more information visit www.greenstreetartscenter.org. To purchase tickets call us at 860-685-7871.
Submitted by Lisa Bruno, Development Assistant