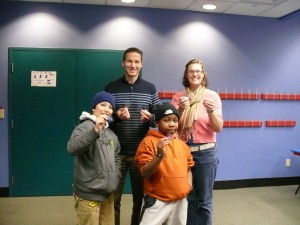 We have new set up this spring for Grade 6-8 students. We will have one class offering each day of the week for two hours, from 3:15-5:15pm. The fee is $300 per class for the semester and financial assistance is available. Unfortunately, we are no longer able to offer homework help for the middle school students. However, we hope the extended class time and interdisciplinary class options will get students engaged and learning more about art, math, and science.
Here are the class offerings for the spring.
Mondays – Video and Animation with Marc Pettersen: Students learn the basics of animation, character design, and movement. The class works as a team to create animated, hand-drawn shorts to be displayed at our end of semester showcase.
Tuesdays – Art and Math with Renee Soares: Students explore the world of math through various art forms and techniques. The class creates colorful tessellations, paper pyramids, three dimensional objects using the ancient Japanese technique of kirigame, and intricate mandalas that when connected become a labyrinth.
Wednesdays – Art and Science with Lindsay Behren: Students find scientific connections with various subjects and use various art forms to explore those scientific concepts in a creative way. Past themes have included ocean animals and hot air balloons.
Thursdays – Experience Music, An Exploration of Sound from Around the World with recent Wesleyan graduate Jessica Best: Students interact with music traditions from different cultures around the globe including Ghanian drumming, South Indian singing, Taiko drumming, experimental music, and jazz. The class includes visiting musicians from Wesleyan who show the students how to play the instruments themselves and create their own ensembles. This class also includes the opportunity for middle school students to serve as mentors to our younger students (Grades 3-5).
Fridays – Wesleyan Bound, the College Experience with two Wesleyan students and a staff advisor on campus: Students visit Wesleyan University weekly to meet student leaders, tour science labs, talk to professors, explore art galleries, and more. Each semester of Wesleyan Bound is a unique experienced aimed at exposing students to life on a college campus.
Call us at 860-685-7871 for more information. We are setting up registration appointments for spring semester AfterSchool classes the next few weeks. Anyone interested should contact Mrs. Cookie at the front desk to set up an appointment.