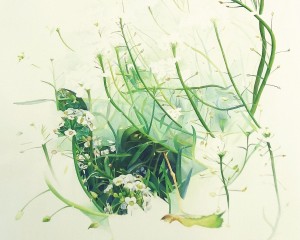 Michelle Podgorski, an artist currently residing in Charlotte, NC
 will be exhibiting her artwork at the Green Street Arts Center during the month of June in conjunction with Middletown's Gallery Walk series.  Her exhibit,  
Fragmented Landscape
, will be on display June 5- June 26, 2014 with an opening reception on Thursday, June 5 from 5-8:00p.m.  In keeping with 
Green Street's mission to highlight the work of artists whose artwork forges a connection to math or science, 
 Podgorski's work
 focuses on the line that exists between man and nature, and the continuing survival of our natural environment.
 The Green Street Arts Center is open M-F, from 9a.m.-5:00p.m.  The exhibit, 
Fragmented Landscape
will also be viewable during Green Street's Open House celebration on Saturday, June 14th from 12-4:00p.m.  
Attached is a close up image from one of the large scale watercolors (
entitled 
Weeds)
that 
she will be exhibiting.