"Ghost Bee"   Printed PLA plastic, 5 x 8 x 4"      2014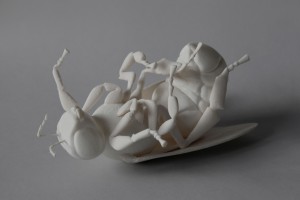 photo courtesy of Joseph Smolinski and Mixed Greens, New York
An exhibition of the artwork of Joseph Smolinski entitled, Colony Collapse–  including his drawing, 3D printed sculpture, and video will open at the Green Street Arts Center of Wesleyan University on Thursday, September 4 with a reception  from 5-8:00p.m— in conjunction with Middletown's first Thursday Gallery Walk that evening.
Smolinski's most current body of work focuses on  the notion of collapse in relation to human impacts on the environment.   He notes that although honeybees are vital to the production of food on our planet, since 2006, commercial honeybee farmers have reported numerous occurrences where their hives have gone empty and billions of honeybees have disappeared without a trace.  While the causes of Colony Collapse Disorder have not been proven, Smolinski's exhibit cautions us that the evidence of environmental stressors and commercial agricultural practices cannot be ignored.    Both artist and scholar, Joseph Smolinski will be this year's Menakka and Essel Bailey '66 Distinguished Visiting Scholar in Wesleyan's College of the Environment.
The artwork of Joseph Smolinski will be on display at the Green Street Arts Center of Wesleyan University from September 4th through September 25th.  September gallery hours are Mondays 9a.m.-noon. and Tuesdays-Fridays 9a.m.-3p.m.