The Heart Gallery is a traveling exhibit created to find forever families for children in foster care.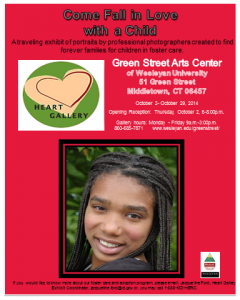 The Heart Gallery is a collaborative project of over 120 Heart Galleries across the United States designed to provide permanency for children needing homes in our community. Professional photographers have volunteered their time and talent to photograph the children in care. The Heart Gallery model is being replicated in many communities across the country. Although many of our children were removed from abusive and neglectful situations, they still have hope. They love to laugh, to learn, and to be with their friends. Most of all, they hope to find a stable home and family connection.
The CT exhibit is a collection of various photographs of children who are medically complex, have siblings or are young adolescents to older teens. These children all have one wish in common, to find a permanent connection with a family.
Opening reception will be on Thursday, October 2nd from 6-8pm
The exhibit will run from October 2- October 29, 2014
Gallery hours: Monday – Friday 9a.m.-3:00p.m.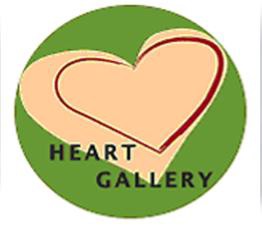 If you would like to know more about foster care and adoption program, please email: Jacqueline Ford, Heart GalleryExhibit Coordinator, jacqueline.ford@ct.gov or, you may call 1-888-KID-HERO.