(RE)PRESENTING PLACE: A Portrait of the Coal River Valley
A Multi-Media Project by
Wesleyan University Undergraduate Students,
Rachel Lindy
Rachie Weisberg
Isaac Silk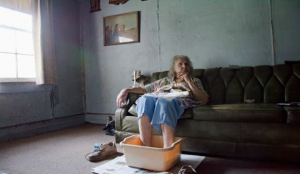 In the Summer of 2013, Rachel Lindy ('15), Rachel Weisberg ('15) and Isaac Silk ('14) spent six weeks living in the Coal River Valley of southern West Virginia—an area highly affected by mountaintop removal coal mining and teeming with activist resistance. During this time, we developed a multimedia project that explored the future of the region and its inhabitants in a post coal economy, attempting to place this change in the larger context of social and environmental justice issues. By sharing these images and stories, we hope to provide the Wesleyan community with a sense of the deep complexities surrounding the coal industry, and to encourage dialogue around the often absentminded nature with which we consume fossil fuels.
This exhibition was made possible through the generosity of the COE's Visualizing the Environment Program, the COE, the Green Fund, and the CFA's Feet to the Fire Program.
Exhibit will run until March 25th.
Gallery hours are Monday – Friday 9-3:00pm.