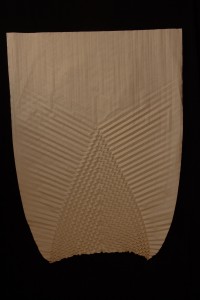 In his series, Breaking the Pattern, that will be on display at the Green Street Teaching and Learning Center of Wesleyan University from June 4th through June 24th, Ben Parker thoughtfully and skillfully challenges the cliché notion of origami as merely the art of cleverly crafting amusing paper animals.
Parker's aesthetic clearly affirms his affinity for pattern, precision and problem-solving–  all of which are inherent to the mathematics that underly his works and that are in keeping with the Green Street's overarching theme of science and math.  He exquisitely explores and manipulates a much broader range of hand-folded patterns, designs, and surface textures than one would typically associate with the traditional craft of origami. The works in this show gracefully embody Parker's contemplative, uniquely personal, and contemporary approach to the ancient art of origami.
This extraordinary exhibit will open on Thursday, June 4th from 5-8:00p.m. in conjunction with the Middletown Art Walk series— and will be a delight for crafters, as well as fine art aficionados.