We had three amazing college students work with us to deliver the Girls in Science Camp at Green Street and serve as role models for the campers. This year, those young women were Josephine Ho, Mackenzie Schlosser, and Victoria Barr. In this six-part series, they share their experiences and favorite moments of the week.
Girls in Science Camp Reflection – "Learning from Unexpected Results"
by Josephine Ho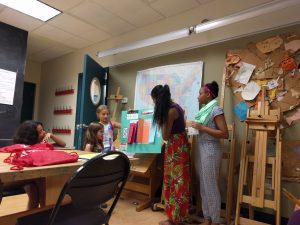 One of the first words that was introduced to the campers was "hypothesis". The emphasis on making a hypothesis was notable throughout the camp. Instead of being spoon-fed information, the campers were encouraged to discover science in a very real way.
The camp did not only allow them to discover science in a memorable way but it also helped them develop a sense of curiosity, which could eventually turn into a love of learning. I was happy to see that the girls were encouraged to make mistakes and to understand that science isn't always perfect. When the campers did not get any DNA from their DNA extraction session, without prompting, they came up with possible reasons why the extraction did not work for them. It was reassuring that they understand from a very young age that a hypothesis could be wrong and that scientific experiments do not always produce the results that we desire.
What matters the most is that we learn something from those experiments.