Jessica Torres is a Middlesex Community College student completing a Human Services internship here at Green Street this semester as a teaching assistant in our Discovery AfterSchool Program. She will be making several blog posts and reflections during her time here for an inside look at our AfterSchool classes.
Working with Ms. Renee
By: Jessica Torres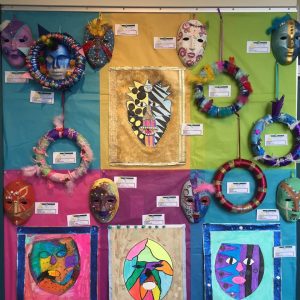 Over my two months volunteering at Green Street, I really enjoy the Beads, Baubles, Boxes, and Beans class with Ms. Renee. The kids always have so much fun doing the projects she designs. We have decorated masks, jewelry boxes, pumpkins, bookmarks, and more.
Spending one day a week in this class, I have noticed Ms. Renee's passion for and dedication to her instruction and most of all, to the students. She makes every class exciting for the students and knows just how to keep their attention. She knows how to bring the class from more rowdy state to a nice and calm level when needed.
One technique I have noticed that she uses to redirect a student when they are having a hard time is to nicely tell them it is time to be quiet and pay attention to the instructions. She says it in a funny high pitched voice though and that makes the students laugh yet lets them know that they need to listen at that moment. I admire this approach because it shows that you can use a positive, humorous approach to help students get focused or redirected.
I also admire how Ms. Renee is very open minded and always willing to listen when a student is very upset about how their project came out. The student will point out all the negative things they see with their finished product but Ms. Renee points out all the unique things she sees. This always seems to make the child feel a lot better and helps them to see the good in their situation. Art is unique and the students all get to show that in their own ways with Ms. Renee's guided techniques and positive approach.