Gabby and Lisa sat down one day to talk about what Green Street Arts Center means to an 11-year-old 5th grader in the After School Arts & Science program.
Learning at Green Street: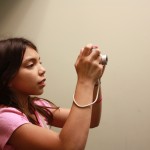 I first took photojournalism because I took some pictures for my best friend's graduation, and they came out really, really good, so I thought maybe I should take pictures when I grow up.  My mom signed me up for the class and now I'm so happy.  I've learned a lot.  I didn't know how to post pictures to make a calendar, and I can do that now.  The style of the cameras is really cool; we use different kinds of digital cameras, one blue and one grey.  I have my own, so after photojournalism I can still take pictures.  My favorite subjects to photograph are people and weddings.  I want to be a wedding photographer when I grow up.
Since Marela, the mural teacher, came to talk about the mural we are about to paint, I've taken time to draw pictures for the design.  Now she is going to put me in the Arts & Science program that will be working on the mural.
I also learn piano with teachers David Davis and Allison House.  Even though I didn't sign up for private lessons, they just started teaching me scales and sharps.  I know some of Beethoven's Moonlight Sonata, Mozart's Sonata in C Major, the theme from Harry Potter, and I'm working on learning how to read music.
Green Street & my life:
When I first came to Green Street I didn't know anybody, but now, 6 months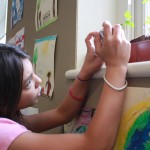 later, I know everyone by heart.  The staff is really nice and helpful.  Wesleyan volunteers even help us with our homework! I wouldn't have been able to do it without them.  I've definitely changed since coming to Green Street.  I now get A+ on all my homework because of all of the academic help that I get.  I love it here.  I don't have any friends at school, so I like Green Street because I've been making lots of friends.  My mom says I'm always smiling when I come out of Green Street.  When I'm older and finished with school, I would be proud to come back to Green Street to help with the kids as a staff member.
I just want to say thank you to Miss Cookie for letting me go to Green Street because without her I wouldn't even be here writing this blog.
To view some pictures that Gabby took, visit our Facebook page.
Submitted by Gabby M., After School Student, with help from Lisa Bruno, Development Assistant