Green Street is all about community. We are working to build community in our immediate neighborhood and also to strengthen our connection to Wesleyan University.
At the beginning of the year, Ari came to us with an idea to do just that – and in a delicious way.
Ari is a Wesleyan student. "Middletown is on my address, but I don't feel like I'm part of the community," he said the first time he came to Green Street.
He and a group of students wanted to organize a community potluck where it was more about bringing yourself than a dish. The idea was to bring people together to break bread and sharing stories. Each potluck would have a theme and involve community and student speakers.
Appropriately, the first theme was "My Middletown Experience." We shared stories and a meal with over 50 people that first night, ages 5 to 75.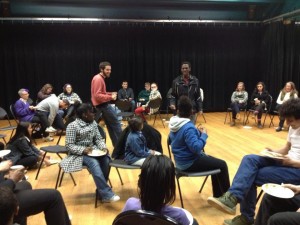 This is what Ari had to say about the first event. "Middletown residents (including some Wesleyan students) came together for a community potluck. The food was great, but the conversation was the major draw. Nur Moebius offered her touching story of struggle and overcoming it, and Jalen Alexander led a discussion on what community and compassion meant to everyone around the circle. Many new friendships were formed, and the inaugural event of what is to become a longstanding tradition was a big success!"
Jalen asked the group three questions.
What is community?
What is compassion?
What is service?
The whole room participated in the conversation. Kids from our After School Program and retired faculty from Middlesex Community College answered the same questions – spanning sometimes seven decades of experience. The answers were powerful. Here are a few gems from the night.
"We are all in this community together."
"Share yourself with people."
"Its about getting outside your box."
"People just have to smile more."
So come smile with us, make a plate, and share your story. Community potlucks will be hosted once a month on a Sunday evening.