We had three amazing college students work with us to deliver the Girls in Science Camp at Green Street and serve as role models for the campers. This year, those young women were Josephine Ho, Mackenzie Schlosser, and Victoria Barr. In this six-part series, they share their experiences and favorite moments of the week.
Girls in Science Camp Reflection – "Helping Each Other Learn"
by Josephine Ho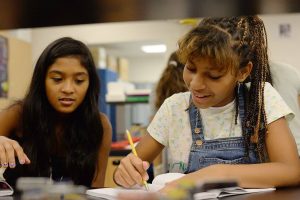 The campers from this year consisted of girls from different grades (4, 5, and 6). Naturally, some of them were more advanced than others. This gap created an opportunity for older girls to help younger ones learn.
As a teaching assistant, I was delighted to have a glimpse into the thought process of the campers as they explained difficult concepts to each other. It was a wonderful experience both for me and the campers who were on the receiving end of the teaching. More importantly, it was a great way to know if the campers have grasped the topic at hand.
An activity that deliberately encouraged teaching and learning among campers was the Taboo-like review game that we played on the last day. The campers were split into two teams. Each team sent one representative who had to guess a word from the vocabulary that we learned throughout the week. The rest of the team members were in charge of helping their reps guess the word by explaining the word with scientific facts; no clues on the component of the word was allowed.
Although we did not manage to go through a lot of words, the session was an eye-opener for me. I saw how certain concepts could be explained simply with a 6th grade vocabulary.