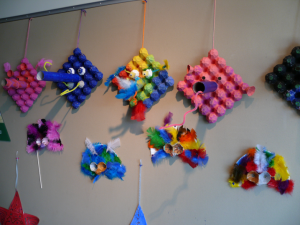 We have a great selection of art, math, and science classes at Green Street this spring. Talk to your kids and sign up early for their first class picks. The semester runs from January 27 – May 9, 2014.
Elementary school students (Grades 1-5) have 2-3 class choices for every day of the week from 4:15-5:15pm. We also offer homework help Monday-Thursday after class until 5:45pm. Middletown Public Schools transport student directly to Green Street and parents or guardians are responsible for pick up.
The fee is $150 per class day for the semester and $75 per homework help day. Financial assistance is available. We also have programming for Middletown's early dismissal days. An extra $5 per half day will be applied to the total semester fee.
Classes for Grades 1-3 include:
Art and Science
Recess Rocks
Musical Mentoring
Sign Language
Kids in the Kitchen
Yoga
Hip Hop
Environmental Art
Art Around the World
Science Club
Breakdance
Felt Fiesta
Word Play
Classes for Grades 3-5 include:
Fashionistas
Breakdance
Musical Mentoring
Art and Science
Hip Hop
A Cappella
Improv Theater
Experience World Music
Kids in the Kitchen 2
Digital Art
Capoeira
African Drumming
At the end of the semester we celebrate the student work at a Solstice Celebration. They put on performances and display their artwork from their classes.
Call us at 860-685-7871 for more information or to set up a registration appointment.