Our Discovery AfterSchool Instructors share stories from their classes in this guest blog series Discovery AfterSchool Stories. For more information on our AfterSchool Program, please visit – http://wesleyan.edu/greenstreet/youth/afterschool.html.
By: Peter Van Siclen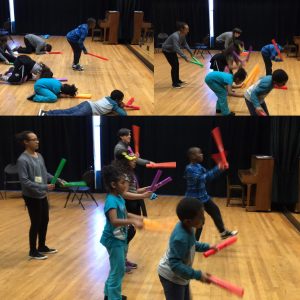 In Boomwhackers we have been combining the sound of tuned plastic tubes with stomping dance moves to create harmonic beats. The class has created a robotic routine where individual students introduce the beat and the rest of the class "powers up" to join them. Our most challenging song this semester has been playing the Star Wars theme while pretending the Boomwhackers are musical light sabers. The class is learning to work as a team to make music together, and they are even trying to throw in some showy spin and twirl moves, too!