Come join us to learn about the true story that inspired a legend.
The Arthurian legend is perhaps the most important legend in Western society and is still frequently retold and reinterpreted today in literature and cinema.  Wesleyan Professor Jeff Rider has been studying the legend for over thirty years and will be discussing it in Green Street's Sunday Salon Series.  Jeff will discuss the origins of the legend in Dark Age Britain along with its early evolution in medieval England and France. Audience members are invited to ask questions about Arthur, Lancelot, Guinevere, the Grail, and much more.
This informal lecture takes place on Sunday, September 12 from 2-4pm as part of the Sunday Salon Series, Green Street's monthly discussion series for creative minds and curious individuals hosted by Wesleyan University Chemistry Professor David Beveridge.  Each monthly salon includes plenty of opportunity for socializing as well as a reception with light refreshments.

More about Jeff Rider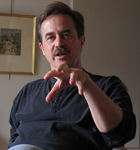 As a professor of French and Medieval Studies at Wesleyan University, Rider is an expert on the history and literature of northern Europe during the High Middle Ages.  He received his bachelor's degree in French and English from Yale University, a diploma of Medieval Studies from the Catholic University of Louvain (Belgium), and a MA and Ph.D. in Comparative Literature from the University of Chicago.
Rider is the author of twenty-three published articles and six books, editions, or translations devoted medieval subjects.  He has given numerous lectures about the Arthurian legend in the United States, England, France, Belgium, Holland, Hungary, Romania, and Peru.
He teaches French language and medieval literature and history courses to undergrads, and recently taught a course on "Chivalry, Courtliness, and Courtly Love in the Middle Ages" to students enrolled in Wesleyan's Graduate Liberal Studies Program.  He will be teaching a GLSP class this fall on "Days and Knights of the Round Table".  Much like his Sunday Salon discussion, it will look at the way the various developments of the legend were rooted in specific historical circumstances and yet contributed to the elaboration of a rich and complex narrative that has been appropriated in different ways by each succeeding period of western European culture.
Days and Knights of the Round Table with Professor Jeff Rider
A Sunday Salon & Graduate Liberal Studies Open House
Sunday, September 12 | 2:00-4:00 pm
Suggested donation: $5
Co-sponsored by Green Street Arts Center and Graduate Liberal Studies at Wesleyan, this event will be followed by an information session about Wesleyan's Graduate Liberal Studies Program.
For a complete list of events at Green Street, click here.