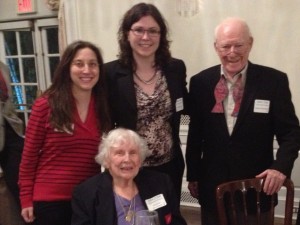 On April 24 at the New Haven Lawn Club, the Project to Increase Mastery of Mathematics and Science (PIMMS) at Wesleyan University was recognized for its successful, effective, and influential program in professional development for mathematics and science teachers in Connecticut.
PIMMS received the Dr. Sigmund Abeles Science Advocate Award at the annual awards banquet of the Connecticut Science Teachers and Connecticut Science Supervisors Associations for Excellence in Science Education and Supervision. The award is designed to recognize individuals or organizations that have demonstrated staunch advocacy for science education in Connecticut as evidenced by their substantial and sustained support and contributions. The award was established to honor Dr. Sigmund Abeles, State Science Consultant emeritus for his outstanding leadership and service to science education in Connecticut.
The Chair of PIMMS, Dr. Robert A. Rosenbaum, who started the organization in 1979, and new Director, Sara MacSorley, accepted the award together at the ceremony.
"It's such an honor to come into a well regarded organization and to be able to work with Dr. Rosenbaum. I'm looking forward to continuing to support the professional development of Connecticut's science and math teachers," says MacSorley.
Dr. Rosenbaum's humble words in response to this tribute reminds us all of why we feel so passionate about him. As an extraordinary educator and gifted thinker, his accomplishments have affected countless teachers in their careers. The evening came to a close with a beautiful song sung by Marjorie Rosenbaum.
PIMMS would like to express its immense thanks to the Connecticut Science Teachers and the Connecticut Science Supervisors Associations for this recognition, to all the math and science teachers who participated in PIMMS training, and to the many classroom students who benefitted from their instruction.