Capoeira is a Brazilian martial arts form that brings together music, dance, and acrobatics to create community. You'll sing, play instruments, and improve your balance and flexibility. You'll learn to physically and mentally challenge yourself and your opponents while building self-confidence in a game-like environment. Capoeira is great activity for kids and adults alike.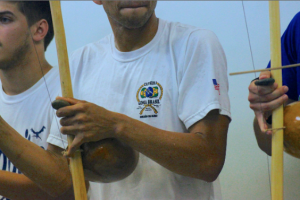 Joel Mendelez is a sought after teaching artist in Connecticut.  He is an amazing instructor that is known for his acrobatic skills in the art of Capoeira.  In addition, Joel is the director of the Advanced Circus Program in the Children's Circus of Middletown, teaches at Oddfellows Playhouse, the Footlights Center for the Performing, and the Green Street Arts Center.  Joel will connect and transport the students to a world free of inhibitions where all is possible.
Want to stay fit and build community? Come join us at Green Street for a 6-week series of Capoeira classes this fall.
(Children in grades 3-5 can register for Capoeria class on Fridays from 4-5:00 p.m. during our AfterSchool program.)
7:00 – 8:30pm – ages 12 to adult, $15 per class
6:00 – 7:00pm — ages 7-11, $10 per class
Classes will be Tuesdays September 10, September 17, September 24, October 1, October 8, and October 15.
Registration fee for 6 week class block due to Green Street up front.  Cash, Check, or Credit Card (Visa, MasterCard, Amex).
Uniform purchase is separate
Please call the Green Street front desk at 860-685-7871 or email us at gsac@wesleyan.edu to register today.