On Friday, October 4th, from 5-8:00 p.m. (in conjunction with Middletown's Gallery Walk series), the Green Street Arts Center will host an opening reception for  NYC artist,  Jennifer Formica, whose exhibit, Microcosmic Nature, will be on display from October 4th through October 29th (M-F, 9a.m.-3p.m.).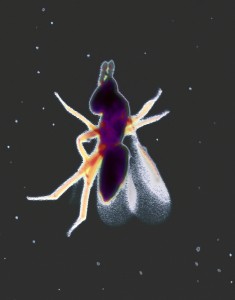 Jennifer Formica, originally from Hartford, currently resides in Williamsburg, Brooklyn and is an adjunct professor of Photography and Digital Imaging at Dowling College and York College/CUNY. Here photographic images — vibrant, symbolic and seductive, whimsically evoke the inner psyche and hidden beauty in organic matter, often capturing the magic of nature on a microscopic scale. Formica's artistic process and techniques range from the use of traditional analog large format camera, to the use of a computer scanner as an image-capturing device, and even to the connection of a microscope to various film and digital cameras.
Formica says of her own work: "Though each individual organism's color, structure and markings were not merely created for their visual beauty, I hope to transform them into something symbolic and monumental by documenting, magnifying and abstracting an unseen hidden world of complex forms, textures and bright vibrant colors."  Certainly, this  special opportunity for a glimpse into her microcosmic perspective is not to be missed.