Ever wonder what happens at the Green Street Arts Center? Come join us for our Open House on Saturday, June 14th to find out. We will be here from 12:00-4:00pm with an art show, musical performances, tours, and more information about our activities. Our teaching artists are volunteering their time to help us bring you an amazing event for the whole family.
Learn about our:
AfterSchool Program – fall registration is open!
Private Lessons – meet the teachers
Teacher Professional Development Opportunities – science safer workshop schedule set for next year
Classes and Workshops – VanGogh, summer preschool music, blogging
Green Street-to-Go! Teaching Artist Residencies – bring our artists to your clients for arts and cultural activities
The art sale will feature original works from our teaching artists and staff Renee Soares, Roslyn N. Carrier-Brault, Lindsay Behrens, Meredith Arcari, Cookie Quinones, Claudia Wolf, and Sara MacSorley. They'll be selling paintings, photography, jewelry, and original screen printed tshirts. Lots of great gift ideas for all those summer birthdays.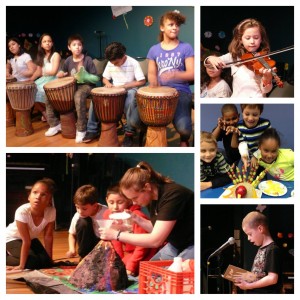 Nationally-known mosaicist Deb Aldo will be here to tell visitors about our Greening Green Street Mosaic Project and show off the newly installed pebble mosaics in our garden. She will have original pieces on sale to support AfterSchool scholarships.
We will have musical performance by our teaching artists Joseph Getter, John Nisbet, Phil Zimmerman, and Liz Dellinger. At 3:00pm, special guest the Rhythm Ring Singers will perform. The Rhythm Ring Singers grew out of the Living in Song Workshops hosted as part of a Center for the Arts residency with Sweet Honey in the Rock.
Michelle Podgorski's watercolor exhibit "Fragmented Landscape" will be on display.
There is a $5 entry donation to support our programs, kids under 12 are free as are families who participated in the spring semester of our AfterSchool Program.
Come on down!
51 Green Street
Middletown, CT 06457
Saturday, June 14, 2014
12:00-4:00pm
$5 entry donation