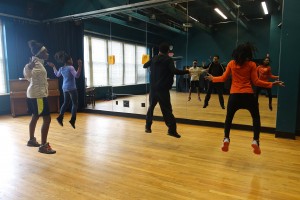 This year the Green Street Teaching and Learning Center formerly known as "Green Street Arts Center" is celebrating its 10 year anniversary.Throughout its 10 years of existence, Green Street has formed an extremely close-knit community, gathering a variety of teachers and students all expressing their love of art, and now even other subjects such as science and math.
Within this community is Eric Quinones, the current hip-hop instructor and former student of Green Street. Since the very beginning, Eric has been involved. "I was here since it first started. So it's the 10 year anniversary now. I'm 21, so I was about 10 years old when I first started going here." Ever since then, Eric has grown up with Green Street, taking a multitude of art classes offered to kids from first to eighth, from visual arts like film, to dancing classes like ballet. After years of dabbling in various classes, Eric found one that truly stuck: hip-hop.
"Green Street has made a huge impact in my life because I was able to take hip-hop classes here. As I got older and started high school, I began to volunteer, and now I actually teach the classes."
Throughout his time at Green Street Eric has seen himself transform from student to teacher, now teaching younger kids as well as the older kids the art of hip-hop. "Back then it was me performing and now I get to teach them. It's great to watch my students perform and improve. Some students come in without having danced a day in their life and they come here just to try out the class, and then sometimes even advance to older age levels." Just like himself, Eric sees his own students fall in love with the subjects they experience. "There are times when I come in and I'm not even teaching and they're just showing people the dances in the studio. I can definitely see them continuing to dance, maybe even teach too."
For those who are interested in arts (and now math and science), Green Street serves as an incredible source; one that offers not only experience and learning, but a family community. "It's a great place; whether you're into hip-hop, drumming, or anything, Green Street can let you try it out. The whole atmosphere is so welcoming and you just feel at home."
Support Green Street's youth programs by visiting FroyoWorld on Main Street in Middletown on Friday, April 17th from 5-8pm.