The Petit Family Foundation supports girls in science and they just awarded Green Street a $12,500 grant to grow their Girls in Science Summer Camp. Our Director, Sara MacSorley, got the chance to meet Dr. Petit and talk about the variety of their science support throughout the state.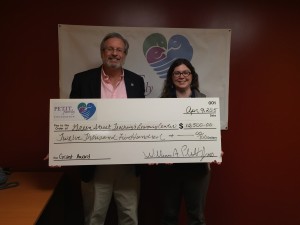 The Green Street Girls in Science Camp will take place from August 3-7, 2015 and we'll be recruiting girls entering grades 4, 5, and 6 from the area soon. We'll be working with Wesleyan Professors Erika Taylor, Ruth Johnson, and Christina Othon to cover topics from biochemistry to physics. The week cumulates in a science showcase event to share all we've learned with family and friends.
Scholarships will be available for families that qualify. More information coming soon.