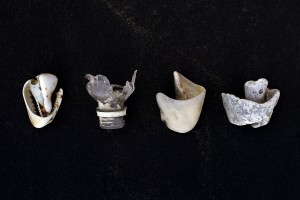 Matt Low is a Brooklyn, NY-based photographer whose crisp, concise, and often calligraphic imagery packs a poignant punch as demonstrated in this show of powerful and poetic photographs of beach debris entitled Persistence at the Green Street Center for Teaching and Learning of Wesleyan University.
Greatly disturbed by the growing profusion of plastic detritus he observed washing up onto our beaches, Low began to photograph the vast assortment of forms he encountered while walking the shoreline.  Individually, each of these bits of beach debris appeared nothing more than expended and mundane.  But by astutely arranging and juxtaposing natural ocean remnants with cast off, man-made plastic forms, Matt Low initiates a powerful poetic and/or political discourse within each of these photographs he presents.   Persistence, a captivating photographic narrative– both delightful and dire– is not to be missed.
Low's exhibit, Persistence will be on display from August 6th-27th with an opening reception on Thursday, August 6th from 5-8:00p.m.
The Green Street Center for Teaching and Learning is located at 51 Green Street, Middletown, CT.
The gallery hours are Monday through Friday 9a.m.-3p.m. The gallery will close at noon on Fri., Aug. 7th.