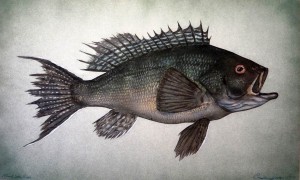 The goal of Bradley's work is to share his passion for fish, fishing, and the marine environment with others. By highlighting the natural beauty of each individual fish species, viewers can come to respect, enjoy, and aspire to preserve these amazing creatures for the future.
His artistic skills and style have evolved throughout his life as a furniture craftsman, woodworker, and taxidermist. Growing up in Fairfield and Westport, Connecticut, Bradley also developed a deep passion for the outdoors, fishing, and wildlife conservation.
Bradley uses a multi-technic process with acrylic paints. Each painting is based on a foundational print of the actual fish, similar to the Japanese Gyotaku technique. Therefore, each original painting is the life size of the fish species. Then, the realistic details are added using artist brushes and airbrush techniques.  To finish, Bradley mounts and frames the prints himself. The wood frames are artistically finished and assembled from repurposed wood boards.
Jones' exhibit, FISH FOR LIFE will be on display from October 1st-28th with an opening reception on Thursday, October 1st from 6-8:00p.m.
The Green Street Center for Teaching and Learning is located at 51 Green Street, Middletown, CT.
The gallery hours are Monday through Friday 9a.m.-3p.m.