We had three amazing college students work with us to deliver the Girls in Science Camp at Green Street and serve as role models for the campers. This year, those young women were Stacy Uchendu, Anna Redgrave, and Mikaela Carty. In this five-part series, they share their experiences and favorite moments of the week.
Girls in Science Camp Reflection – "Before and After"
by Mikaela Carty
When Professor Othon, my advisor, offered me a job working with Girls In Science Camp, I got super excited. Well excited and a little hesitant. I was very honored that she asked but I was a little reluctant to accept Professor Othon's offer because although I had taken two semesters of challenging physics, I did not fully feel equipped to lead experiments and lessons in this (physics) or any of the other subjects (being biology and chemistry). Professor Othon assured me that I would be right for the job and after consulting my mother I changed my departing ticket to a later date so that I could stay long enough to assist in the science camp.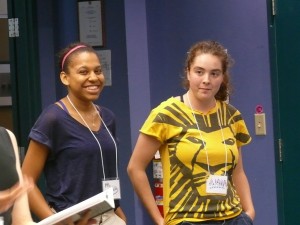 I imagined that the girls would be young and anxious to learn about science. I imagined that they would draw male scientists when we asked them to do the "Draw a Scientist" assignment the first day. I imagined that they would forget to write in their journals and I and the other helpers would have to remind them to do so. I imagined my experience would be similar to dealing with myself when I was that age. I pictured shy, energetic, bright and inexperienced little girls.
However, what I imagined was different from the reality of my experience. For one, the girls were a lot more knowledgeable than I had expected. When they were asked to draw a scientist (at the start of the week) many of them drew females holding scientific paraphernalia rather than males. Without help from the professors, they were the ones who realized that if you place a lot of cherries on a scale then the scale would display a measurement and you could then divide that value by the number of cherries to calculate the weight of an individual cherry. I cannot believe that they knew that this was a method to try when your object is too light for a scale.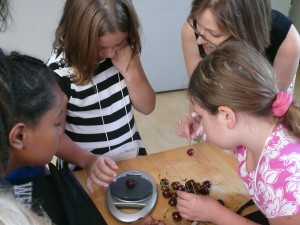 They are such bright children and their notes were wonderful. There was one girl that wrote notes that were so thorough I felt like she was already ready for college! I was very impressed with the students that participated in this camp. I believe that this is a sign that we are well on our way to a world where girls are just as prevalent as guys in the scientific fields.
It's wonderful to see females being researchers and professors and mothers and knowing that we have the potential to be anything we set our hearts on. I am so grateful to have been part of this wonderful camp and I hope to continue and help propel the women in science movement.