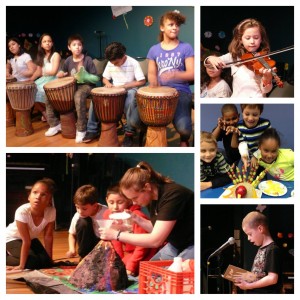 Believe it or not, it's that time of year when we begin the process of creating the Fall 2016 schedule of classes for the Green Street AfterSchool program.  We are asking that everyone—even our current staff of teaching artists, send in proposals for consideration.  This means that if you are currently teaching any class during the AfterSchool program (even long-established classes), you must make your interest known via our online survey in order to potentially continue teaching your current class (or, in order to propose any new ideas for classes).
Please submit your class proposal(s) in our on-line survey.
Please note that the Fall 2016 AfterSchool session runs from Sept. 12- Dec. 9, 2016.  Teachers will also be expected to attend a 2.5 hour-long staff orientation with a pizza lunch prior to the program's start.   That training program will likely run from that training program will likely run from 11:30am- 2:00pm. on Sat., Sept. 10th.   Teachers are also required to attend the semester's culminating evening Solstice performance on Friday, Dec.9, 2016, as well as to participate in any needed rehearsals earlier that week.
Green Street serves about 80 students per year through our AfterSchool Program. We are looking for class proposals in music, visual art, culture, languages, movement, nutrition, media, other arts disciplines, environment, science, and math. We would be particularly pleased to hear your ideas for classes that integrate art, math, and science in a fun, enriching, hands-on way that children may not be exposed to during their traditional school day experience.
AfterSchool classes are primarily offered for children in grades 1-5.   As of fall 2015, the only AfterSchool class that is offered for 6th-8th graders is our Wesleyan Bound class which occurs on Fridays from 3:15-5:15pm). The classes for elementary-age children meet once per week and are one hour-long (4:15-5:15p.m., Monday-Friday). We also offer a homework help time from 5:15-5:45p.m. on Monday through Thursday for children in grades 1-5 only.  Teaching one of these elementary level classes involves 1.5 hours of commitment per class including prep time.   Leading the WesleyanBound class for middle school students involves 2.5 hours of commitment per class including prep time.  Teaching any of our classes requires conversations with teaching assistants, staff meetings, at least one blog submission per semester, and also requires attendance at the evening Solstice performance (Dec. 9th) and at the Solstice rehearsals (during the week prior to the December 9th performance).
Community artists, educators, and Wesleyan students are eligible to submit a class proposal. Please understand that classes are contingent on student enrollment.  Compensation is in-line with experience. Work study students are encouraged to apply.  However, unlike working as a teaching assistant or as a homework tutor during the AfterSchool program, Wesleyan students should know that you are not required be a work-study student in order to receive payment for teaching an AfterSchool class.   The deadline for submitting class proposals is Wednesday, March 16, 2016.  Individuals are welcome to submit proposals for more than one class, although we would ask you to complete a separate on-line survey for each class proposal that you wish to submit.  We will notify applicants of chosen class proposals and have a finalized schedule of classes ready approximately sometime in late May.