We had three amazing college students work with us to deliver the Girls in Science Camp at Green Street and serve as role models for the campers. This year, those young women were Josephine Ho, Mackenzie Schlosser, and Victoria Barr. In this six-part series, they share their experiences and favorite moments of the week.
Girls in Science Camp Reflection – "Light it Up! Learning About Circuitry"
by Victoria Barr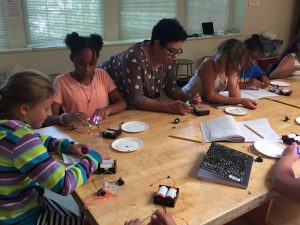 On Thursday during the Girls in Science Camp, I helped Dr. Candice Etson teach our campers how to build their own circuits using breadboards and lights. First we showed them how to wire a light bulb to a pack with two D batteries; once they understood how their breadboards worked, we let them play with LEDs. We gave the girls six LEDs of different colors as well as one multi-colored LED, which they could wire differently to create up to eight colors. Dr. Etson also asked them to measure the voltages across and currents running through both types of lights—these results helped them to understand how LEDs are more energy-efficient than traditional light bulbs.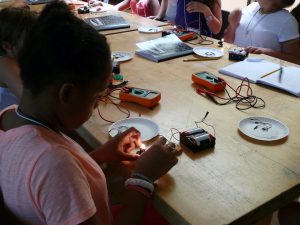 Although electronics can be a very challenging topic for anyone, the girls showed great understanding of and enthusiasm for circuitry. One requirement for this part of the day was that everyone stay extra quiet and attentive since electronics can be dangerous when handled incorrectly, but the girls were the most focused they had been all week! Watching them all experiment individually was extremely satisfying, especially when one camper figured out how to expand the number of LEDs she could hook up by wiring one part of the breadboard to another.