Jessica Torres is a Middlesex Community College student completing a Human Services internship here at Green Street this semester as a teaching assistant in our Discovery AfterSchool Program. She will be making several blog posts and reflections during her time here for an inside look at our AfterSchool classes.
Week Two – Dolphins, Flowers, and Shaving Cream
By: Jessica Torres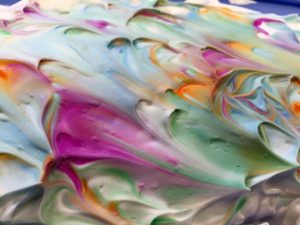 My second week at Green Street was even better than my first. In Sign Language class, the kids enjoyed an activity about their favorite animals. They drew a picture of their favorite animal and the teacher looked up how to say each animal name in sign language. The children were really interested in saying the names of the animals using their hands instead of their voices. They also did a good job memorizing their friends' favorite animals using sign language too. I can admit that I thought it was cool to learn to sign my favorite animal, a dolphin.
In Environmental Science, we took a field trip into the gardens at Green Street. The kids each picked different types of leaves and small flowers from outside. Once back in the classroom, we learned a few facts and examine the leaves and flowers.
In Beads, Baubles, Boxes, and Beans Class, I had so much fun helping the children create a small canvas using paint and shaving cream. The children were amazed at how the shaving cream with drops of paint inside instantly stained the canvas with different bright colors. I spend time on Pinterest looking for different kinds of children's art crafts or projects and the shaving cream technique was a new one for me.
At the end of the week, Ms. Sandy and Ms. Cookie let me know that they really appreciate the help I am giving to the Spanish-speaking students. They also said they appreciate that I take the time out to help with little tasks such as fixing the table and chairs once the children have left for the day. These comments made me feel good and helped me realize that my work at the Green Street does not go unnoticed.