Does thinking about how to promote your artwork online make your head spin? Do you want to make sure your website gets the attention you want it to? Want to know what this Twitter thing is?
This class will help artists and community organizers create a powerful web presence in order to get noticed by employers, foundations, clients, and customers. Learn how to set reasonable goals, design an effective website, use social media, create a blog, sell your work, and more.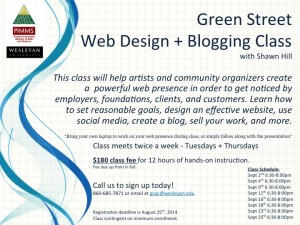 Bring your own laptop to work on your web presence during class, or simply follow along with the presentation.
The class will be twice a week on Tuesdays and Thursday in September from 6:30-8:00pm. The class fee is $180.
Call (860-685-7871) or email (gsac@wesleyan.edu) us today to reserve your space.