This summer, I had the pleasure of spending a week with a group of incredible women – 10 young campers, 2 artists, 3 science college students, a biologist, a biochemist, and a physicist. That week was the first ever Green Street Girls in Science Summer Camp and ladies, it was a hit!
Have you ever heard of oobleck? It's a material that acts like a solid in some situations and a liquid in others (a physics phenomenon known as non-Newtonian liquids). Young girls made oobleck at Green Street last week and got to watch it liquify in their hands, harden to a solid when they dropped it on the table, and dance on a speaker when hit with just the right frequency.
One of them described the experience in her lab notebook – "I noticed that it melted in my hand. When it was in the cup it was hard but then when it was in my hand it melted! I had a great day and I want to be a scientist."
Green Street education staff, biology professor Ruth Johnson, chemistry professor Erika Taylor, and physics professor Christina Othon designed the program. It was important for us to have the girls do real science and to expose them to a variety of careers in science along the way. We also worked with two of our Green Street teaching artists Lindsay Behrens and Meredith Arcari to use art projects to reinforce science concepts – like the parts of a bacterial cell or the structures of insects.
We learned about insects, life cycles, bacteria, DNA mutations, states of matter, non-Newtonian solids, light, and more. Did you know spiders aren't technically insects? They have too many legs!
The girls learned how to use scientific tools like lab notebooks, pipets, and microscopes. The girls set up experiments involving fruit fly diets and bacterial transformation of DNA. We spent a day in the science laboratories on the Wesleyan campus and had lunch with visiting scientists and engineers.
We had 10 campers in Grades 4 – 6 join us, totally free of charge thanks to a generous grant from the Petit Family Foundation. Some of them came in already excited about science, others were a bit quiet at first. By the end of the week, all of them were ready to look into science jobs when they grew up.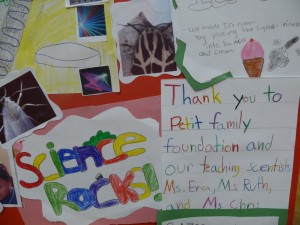 The science-filled week was inspiring and reminded me of that first "spark" of science for myself as a child. I still remember seeing DNA for the first time. We did an extraction experiment in high school and I remember thinking how amazing it was that our whole blueprint existed in a blob of goop. We saw the science spark in the campers over and over throughout the week and we hope to do the same for more girls in future years.
The Middletown Press ran an article on the camp as well as a photo gallery.
Help bring science to life! You can contact Green Street if you're interested in sponsoring a young girl for a future camp who may not be able to otherwise afford to attend.