The Green Street Arts Center is honored to receive a Liberty Bank Award to support our Art and Science AfterSchool Program. The generous and continued support from Liberty Bank is much appreciated and our students thank you.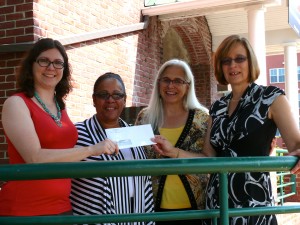 Our integrative classes in art, math, and science foster creativity and build problem-solving skills in a safe space where students can express themselves. We serve students in grades 1 – 8, many of them from the North End of Middletown. Support from organizations like Liberty Bank allows us to give scholarships so that all children can enjoy our program. You can watch their enthusiasm in the video of last semester's student showcase.
Registration for fall classes is still open, especially for the middle school age group.
This fall we have exciting new classes for middle school students. In Art with Math, students will explore shapes, patterns, and measurement while building spatial skills and creating works of art. Students in Creative Writing and Bookmaking will craft original, autobiographical works with illustrations bound in their own handmade books to share with family and friends.  Wesleyan Bound will take students to the Wesleyan University campus once a week to tour science laboratories, meet with student groups, participate in special art and cultural activities with the Center for the Arts, and more.
Please call the Green Street Arts Center at 860-685-7871 for more information about our AfterSchool Program or to set up a registration appointment for your child.
For the list of fall classes and information about the activities at Green Street please visit our website.