Come join us Friday, September 6th, from 5-8:00 p.m. (in conjunction with Middletown's Gallery Walk series) for an opening reception for New England artist, Barbara Alden DiOrio. DiOrio's exhibit, Flesh and Bones, featuring pastel and charcoal drawings, relief prints, and mixed media works will be on display at Green Street from September 6th – September 30th (M-F, 9a.m.-3p.m.).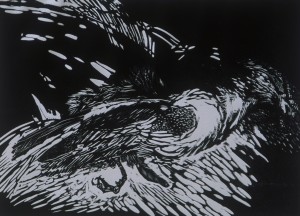 Barbara Alden DiOrio, originally from Rhode Island and currently residing in Burlington, CT is an adjunct professor of art and art history at several Connecticut universities and community colleges.  Her powerful and sinuous drawings, prints, and mixed media works will be on exhibit at the Green Street Arts Center, where the intersection of art and science is what we explore everyday.
DiOrio's recent work involves a series of images about the biological creatures that share our world, and our tenuous relationship with them.  Ever intellectually reflective and environmentally conscious, her observational studies of the animal world are an attempt to visually depict their physiology in direct conflict with the thrust and force of human will.  Her relief prints from a destruction block series entitled Decomposition (pictured above), astutely and ironically points to the dual decomposition of both the artistic medium with which she works, as well as to the subject (a bird carcass) that she observes.  DiOrio refers poignantly to the sentiments of Degas who said, "In art, one is never entitled to disregard what is true".