Hello Friends of Green Street,
Today I'm excited to announce that Green Street has become the Green Street Teaching and Learning Center–Green Street TLC. This structure better represents the work we do in Middletown and also allows us to grow our programs in the arts, math, and sciences for kids, teachers, and our broader community.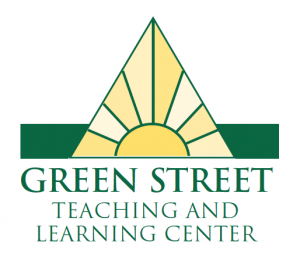 The arts are still very much at the heart of what we do at Green Street. We want to make sure our friends understand that this name change does not change what we're already doing, it simply better reflects our full scope of work and also opens up new ways for us to grow.
We will continue our Discovery AfterSchool Program, which serves 80 Middletown students in Grades 1-8 each year with diverse classes in the arts, sciences, and math; our Private Lessons Program, and our Green Street-to-Go Residency Program that brings teaching artists into community organizations to engage their clients and residents.
We will build on our programming with the Project to Increase Mastery of Mathematics and Science (PIMMS) who has lived at Green Street for two years now and the CT Higher Order Thinking (HOT) Schools who are approaching their fourth year with Green Street. Science safety workshops, which have served over 200 teachers since my arrival nearly two years ago, and the Intel Math Institute that prepares K-8 teachers for Common Core implementation will continue.
We have linked Wesleyan to the local community for ten years and look forward to an even more rewarding collaboration in the years to come. We want to make sure you know about all the opportunities awaiting you at the Teaching and Learning Center.
For more information on any of our programs, please explore our updated website at  www.wesleyan.edu/greenstreet or come visit us.
Thank you and we look forward to working more with you in the future.
Sara MacSorley
Director, Green Street Teaching and Learning Center
P.S. – It may take a little while to make sure our name is updated everywhere, please be patience as we make the switch and feel free to reach out to us with any questions you may have in the meantime.