This event has been cancelled due to the expected inclement weather on Friday, Oct 2nd. 
Green Street will be showing the film "Hip Hop: Beyond Beats & Rhymes" at the Green Street Teaching and Learning Center.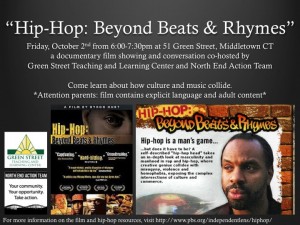 The film discusses how culture and music collide through hip hop touching on issues of masculinity, misogyny, and homophobia. A brief conversation will take place after the film with middle school teacher and hip hop enthusiast, Buster Nelson. We can ask ourselves if hip hop has to be such a man's game or if we can think about lyrics and image differently moving forward.
With so much interest in hip hop lyrics and slam poetry amongst Middletown teens and college students, we wanted to expose them to a bit of the history and larger cultural issues buried in the music we hear on the radio.
The film does contain explicit language and adult content. Parental discretion is advised. 
This event is co-sponsored by Green Street and the North End Action Team.