We had three amazing college students work with us to deliver the Girls in Science Camp at Green Street and serve as role models for the campers. This year, those young women were Stacy Uchendu, Anna Redgrave, and Mikaela Carty. In this five-part series, they share their experiences and favorite moments of the week.
Girls in Science Camp Reflection Series – "Draw a Scientist Revelation"
by Stacy Uchendu
A really cool moment in the Girls in Science Camp is the revelation of how drastically the girls' perceptions of scientists change from the beginning to the end of the week. At the beginning of the week, the girls were asked to draw a picture of a scientist and many of them drew "mad scientist" with hair standing on end, long lab coats and bright colored potions. By the end of the week, they were asked to draw a scientist again and this time all of the girls drew women in traditional lab settings, at home, with pets and children, doing their favorite hobbies, etc.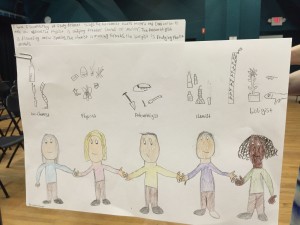 Their pictures showed how their perception of a scientist expanded from the male, mad scientist and diversified into intelligent, multi-faceted women with many interests and real lives. Their realization came as a result of interacting with a diverse range of women scientists and learning about their lives in and outside of lab, and I believe this change in perception will allow these girls to imagine themselves as future scientists as well.